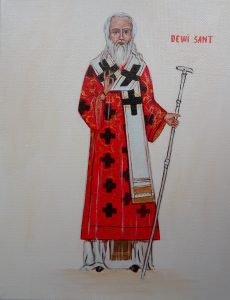 This year our St David's Day Dinner was a bit different. There was no dinner!
On Friday 26th February, we were very fortunate to have Dr Rowan Williams, the previous Archbishop of Canterbury, address our St David's Day gathering.
Unfortunately, due to the pandemic, we were unable to meet in person. So, our meeting was the 'Not St David's Day Dinner' as it wasn't St David's Day, and there was no dinner, but we had an excellent meeting anyway.
Janet John acted as technical host for our Zoom meeting and we met at 7:30pm with a

welcome from our Chairman, followed by two 10-minute breakout sessions where we were able to chat to about half a dozen other members and catch up on local news.
At 8pm David Powell then introduced Dr. Williams and thanked his cousin Cathy Young for facilitating the talk. Cathy and Dr. Williams share an interest in Religious Icons, like the one shown above, which Cathy painted.
Dr. Williams spoke on the subject of 'The Age of the Saints in Wales: Fact or Fiction?', a very suitable subject for St David's Day.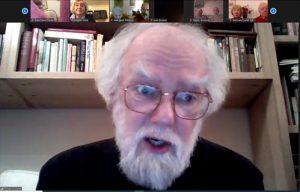 Dr. Williams told us about the early church in Wales and how there was a surprising amount of movement of people and ideas between Wales, Ireland, Cornwall and Brittany. The Christians of the time (500 to 700 AD) thought themselves the successors of the Roman tradition, as opposed to the largely pagan influx of Angles and Saxons. Gravestones of the time frequently contain complex Latin verses and Hebrew Christian names.
He spoke of Welsh saints such as St David, St Gildas, St Samson St Asaph and others.
Monasteries were centres of learning, but were not great stones built buildings but more like villages, and these were in touch with each other across Wales and to Scotland, Ireland and Brittany as a sort of Christian Celtic commonwealth around the Irish Sea.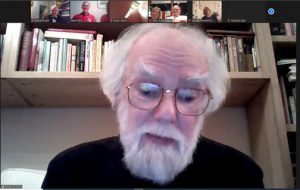 There were very many Saints in Wales, and one of the reasons for this was that at the time, there was no central control from Rome and sainthood was determined locally in Celtic churches and was often given to the founder of an ecclesiastical settlement (llan). It wasn't until the middles ages that there was a central role in determining sainthood.
We then had about 15 minutes of questions and answers, with mention of the Illustrated Manuscripts of St Chad's Gospels and the pre-Roman druids.
David Powell led a vote of thanks for Dr. Williams, who then joined us in two further chat sessions in breakout rooms, which gave some of us a chance to talk to him on a personal level.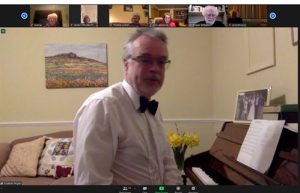 We finished off the evening with Jonathan Pegler playing the National Anthem and a selection of hymns.
Dr. Williams asked that instead of a fee, a donation should be made to Christian Aid.
A recording of much of the evening is available on YouTube, please click on the link below: