CDWS Quiz Evening 25/01/19
Thirty-six members of the Chiltern and District Welsh Society attended the 2019 Quiz Night (held on Burn's Night) and we arranged ourselves into tables of six for a 7:30 start.
Jonathan set the quiz and delivered it with help from his with (lovely?) assistant Graham. This was a relief to many as Graham Beavan's team has often won the quiz in prior years.
Each table had first to devise a name for its team. These were: The Gladiators, The Haggis, The Commoners, Dragons, Y Frrinda and Rebellion.
We started at 7:30 and Jonathan's fiendish questions were set in 6 rounds with titles such as Name that advert and decade, Food & Drink, Science, General Knowledge, Cities with 2 names and Famous faces.
After the first two rounds Fish & Chips were delivered from the Three Households Fish and Chip shop 'The Village Chippy' – they were prompt, hot and tasty.
As the rounds progressed it became obvious that one team were drawing ahead, and at the end of the evening, the winning team, The Commoners, were revealed to be a team comprising of Gwyndaf & Janet John, David & Irene Powell & Rose Edwards. Two Committee members in the winning team? They denied any inside knowledge, but one never knows…..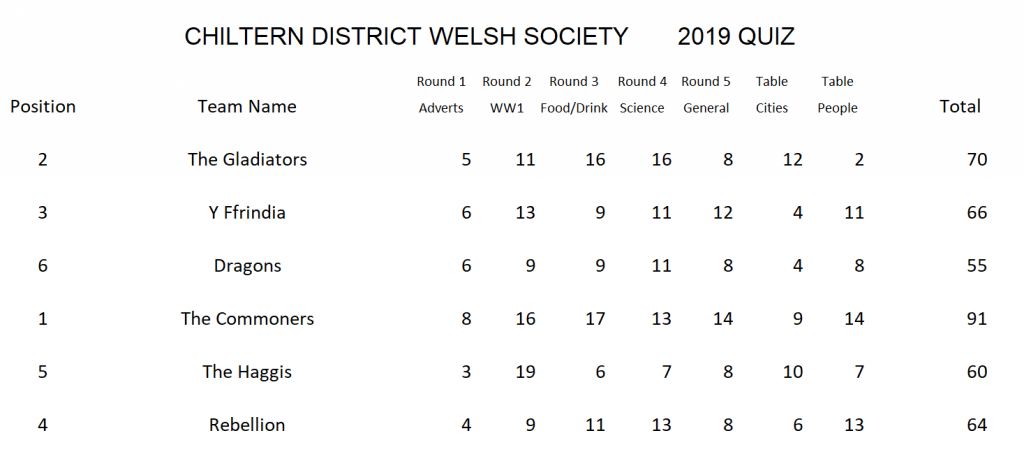 David thanked Jonathan for all the work that he had put into organising the quiz and a show of hands supported the proposal to change to the September trip from a tour of Bath to a coach trip to Slimbridge, where Peter Scott's house will be opening with the opportunity of seeing his pictures and the Wildfowl and Wetlands Trust site that he founded.