This can't be the place!
Many of us thought that we were lost when the coach dropped us off in North Gower Street and we made our way down Stephenson Way. We walked down a dark quiet cobbled street with no sign of a theatre, just offices and goods entrances. Then, near the end of the street, there was a small entrance with people going in – we'd found it.
We signed in and climbed a steep spiral staircase to a large room with many displays of props and accessories of famous magicians – David Nixon, Tommy Cooper, Paul Daniels, Houdin and Houdini were all represented.
Chairs were set out in groups of 20 around small tables, and our party was split into 2 with 20 in one group and 6 in another.
Soon the first magicians arrived – one to each table – only a foot or two from the audience. We had a series of 4 magicians demonstrating their close-up magic skills, and each selected at least one member of the audience to assist!
Patricia Payne was persuaded to demonstrate a finger guillotine and was very brave as the blade descended without any ill effect.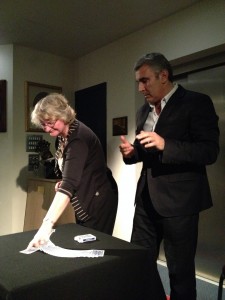 Gwen Finnerty and Irene Powell proved to be able assistants – Irene demonstrating a levitating card. Rob Brett and Liz Seely showed that they could not keep hold of cards in their hands as they mysteriously moved from one person's closed hand to another.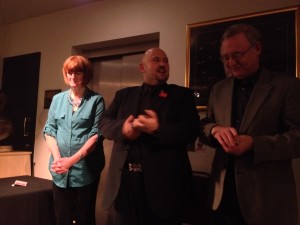 We then had a talk on the history of magic from Egyptian times to the present day, including the formation of the Magic Circle in 1905.
A light meal was provided and we all looked for somewhere to sit and were joined by some of the magicians who continued to amaze us with tricks which seemed to be just impossible.
We then went back to the theatre where we watched acts by 4 different magicians, a couple of whom were familiar from the Penn & Teller television programme.
The show went on until almost 11:00, but our coach driver didn't seem to mind that we were late and we got back home before 12:00.
The universal feeling was that the whole experience was simply Magic!