At the 2018 Christmas gathering, our hosts, Bill & Sue Jones, asked that as a gift, they would prefer a donation to the Woodland Trust for trees to be planted at Parc Mawr.
Following the Society's Oswestry trip in June, Bill & Sue drove on to see how the trees were doing. Here is their report:
Parc Mawr is on the very steep easterly facing side of the Conwy valley. It is an ancient 84 acre woodland occupying a very prominent position in the landscape. Historically, the wood was managed most probably as a high forest, with gradations between upland oakwood and ash / elm with a hazel understorey. The woodland is now a valued local amenity for walking and horse-riding, boasting a network of permissive and public rights of way and fantastic views.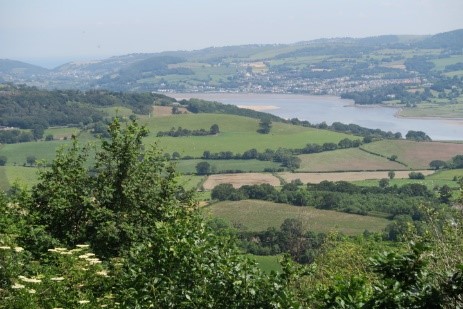 Woodland Trust's focus is on thinning the exotic species introduced by humans and restocking with native woodland.
We walked up the steep path along Grove 1 which is where the 6 CDWS trees were planted. Our path went roughly North South along the steep slope and was therefore a little more manageable, crossing an old byway leading to the ancient Llangelynnin church. This is the North Wales Pilgrims Way (linking Basingwerk Abbey with Ynys Enlli (Bardsey Island)) and passes through the site from the south: a further information panel is provided near this route, at the bottom of the byway.
Along our walk we had glorious views over Conway Valley including to Dwygyfylchi (where Kay Day hails from), and Conway Castle.
The Woodland Trust had forewarned us that the trees were already planted and that they did not mark the trees in any way to preserve the natural beauty of their woods. We saw very many young trees but none that could be specifically identified as saplings.  Therefore, in the event we could not identify the CDWS new trees since they were interspersed with existing trees and growing rapidly.
So, having walked over a mile in and then back again, we did not specifically see our trees but had a glorious walk through lovely fresh woodlands listening to bird song and looking out on to wonderful views in the sunshine. Here is a map reference for the site at Parc Mawr.
https://www.google.co.uk/maps/@53.2474083,-3.859518,2605m/data=!3m1!1e3
Bill Jones