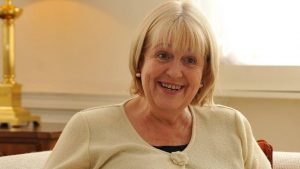 It is with great sadness that we report the death of our local MP and honorary CDWS member Dame Cheryl Gillan on 4th April 2021, after a long battle with cancer.
Cheryl was born in Llandaff, Cardiff in 1952 and brought up in South Wales. Her family still farms near Usk and she was incredibly proud of her Welsh roots.
Her early career was as marketing executive and she chaired the Bow Group from 1987 to 1988. She was elected MP for Chesham and Amersham in 1992 and served as junior minister for Education and Employment from 1995 to 1997 before being appointed as Conservative whip and spokesperson for Trade and Industry, Foreign Affairs and Home Affairs.
In December 2005 Cheryl was appointed Shadow Secretary of State for Wales and showing quite some enterprise, Ann Lawrence offered her honorary CDWS membership the same month, which Cheryl accepted.
The Society kept in touch by sending her copies of the Newsletter and our Programme of Events and eventually this paid off when Cheryl facilitated a tour of the House of Parliament in June 2011 and joined us for dinner in one of the private dining rooms.
Dame Cheryl was fiercely opposed to HS2 and never passed up an opportunity to speak against the proposed high-speed rail link, HS2.
She was awarded a damehood in the 2018 New Year Honours list.