CDWS Golf Day 4th September 2020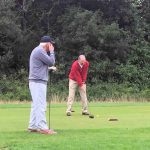 It was so nice to be able to be able to catch up with some old friends in a socially distanced way. It was the first occasion that the Chiltern District Welsh Society had been able to meet since our St David's Day Dinner back in March at the start of the lock-down.
We arrived at Oakland Park Golf Club at about 9am to be greeted with bacon butties to prepare the competitors for the morning's exercise.
Unfortunately, some of the participants had to call off due to injury and Gwyndaf John did some hasty rearrangement of the teams.
David Powell and Colin Picton formed the supporters group to wave off and welcome back the golfers.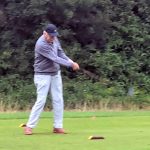 Due to Covid restrictions rules were changed to allow for social distancing. Conditions were good, with sunshine and a slight wind.
The competitors formed themselves into 4 groups – three 3 balls and one 4 ball set off about 10 minutes apart.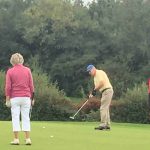 The supporters returned to the course at 12:30 to find the first group at eighteenth hole and accompanied them for refreshments at the 19th hole.
Soon after the 2nd and 3rd groups returned and we compared scores, with Kate Picton quietly confident of the result. We waited for the fourth group to arrive…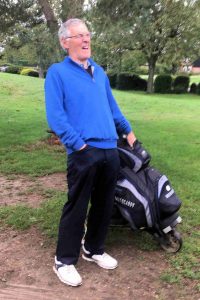 Some 30 minutes later the last group arrived – and when their scores were compared – proved to be the winners! Gwyndaf looked quite pleased.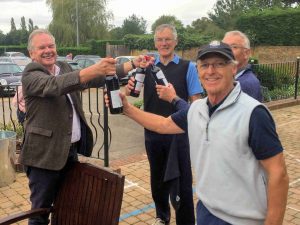 Chairman David Powell presented the prizes to the winning team.
As the restaurant was closed there was no chance for a meal, so after congratulating the winners, we said our farewells and returned home.
It was good to have a chance to see fellow members again.
Our thanks to Rob Britton and Gwyndaf John for arranging the day.