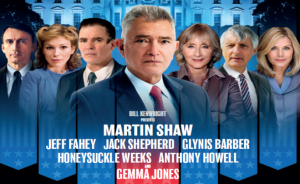 Theatre Trip – 'The Best Man' at the Theatre Royal Windsor 21/09/2017
This year our annual theatre trip was to see Martin Shaw starring as William Russell, Presidential candidate in Gore Vidal's play 'The Best Man' at the Theatre Royal, Windsor.
The play is about two competing candidates for presidential nomination in a 1960's campaign. Martin Shaw plays William Russell, whose main opponent, Senator Cantwell (played by Jeff Fahey) is a ruthless political bruiser, using every dirty trick he can think of to gain nomination.
Jack Shepherd was very impressive as the ailing outgoing president, whose endorsement was needed by both candidates. The play started slowly but soon warmed up and got quite exciting with echoes of the antics played in a more recent real presidential election.
Many thanks to Kay for arranging the trip.
David Powell