Quiz Night Friday 22nd January 2021
Considering the circumstances our Annual Quiz Night went very well.
Of course, this year was rather different – there was no fish and chips, we stayed at home rather than travelling to Coleshill, and there was less opportunity to socialise, but it was still great fun.
Jonathan Pegler did a tremendous job, in fact several tremendous jobs in setting the quiz, running the quiz and handling the Zoom meeting.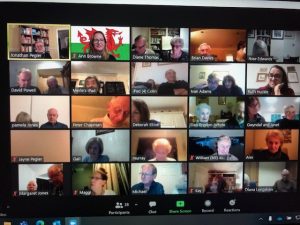 There was a very good turn-out with 40 members split up into seven teams.
We were arranged in groups of about 6 and all signed into the Zoom meeting at 6:45. By 7pm, Jonathan had given each team a colour as its name and arranged who went into which team.
There were 6 rounds of ten questions and at the beginning of each round Jonathan revealed the password to reveal the set of questions. Each team then went into a break-out room and discussed whether any of us could give an answer.
After what seemed to be no time at all, Jonathan called us back together and revealed the answers. The first round was about people ranging from Barbara Windsor to Napoleon.
The questions were up to Jonathan's usual taxing standard, and after rounds two or three it soon became apparent that the White Team – Team Gwyn – was pulling ahead, scoring almost full points on the rounds concerning balls and tables. The rest of us also wondered where they were playing as the Zoom backgrounds kept changing!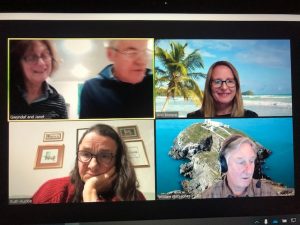 As we moved into the final round Team Goch put on a late spurt, but it was too late, Team Gwyn (appropriately consisting of Gwyndaf and Janet John, Bill Jones, Ruth Huckle and Ann Brown) were too far in the lead.
Asked about their success Gwyn said "The stars of our team were the women. Ruth could probably have won the Quiz on her own. Knowing the answers to the question on the Book of Common Prayer and also the details of Roulette tables indicates she has eclectic interests. Janet's years of Electronics teaching meant the binary sum was spotted instantly. Ann's Chemistry background was recent enough to remember the Periodic table – even if she was too young to remember the 1971 Lions coached by Carwyn James and featuring the incomparable Barry John."
Here are the final scores: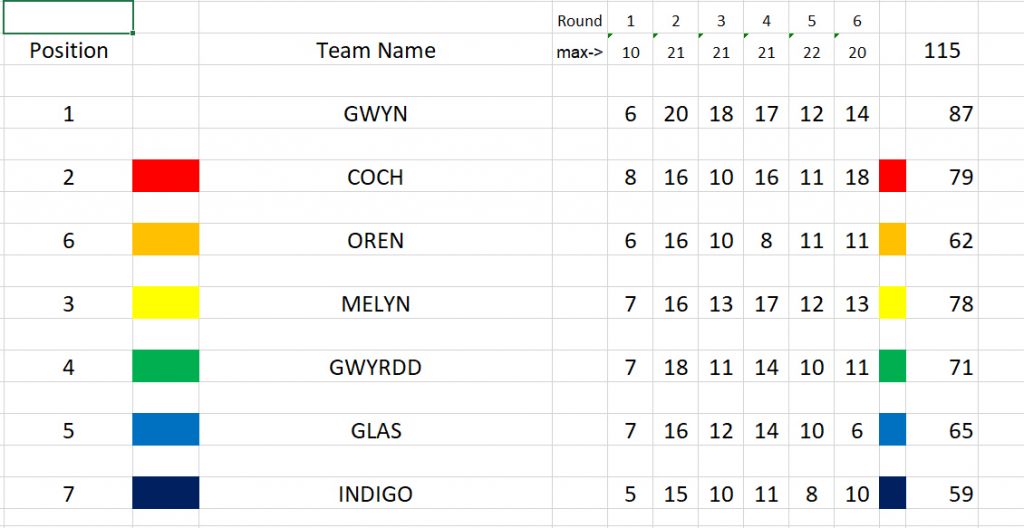 I think that we'd all like to say a very big 'Thank you' to Jonathan for all his work in making the evening such a success.