2020 Events
In view of the outbreak of Coronavirus, our Oxford trip, the Cardiff Trip and the Summer Lunch have all been cancelled. The AGM has been postponed until later in the year.
Future events will be reviewed in the light of ongoing developments.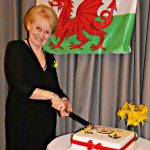 Saturday 29th February saw our annual St David's Day Dinner at Harewood Downs Golf Club. This year also celebrating our 20th Anniversary. We were lucky enough to have harpist Glain Dafydd to provide the entertainment. Gwyndaf's report is here.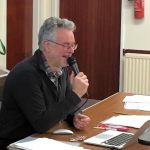 Our first event of 2020 was the Quiz Evening on January 24th at Coleshill.
Jonathan Pegler took particular delight in posing questions ranging from famous nurses to recognising seaside resorts in the fog.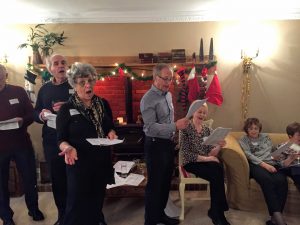 On 8th December, Di and Colin Thomas kindly hosted our Christmas drinks event at there home in Gerrards Cross. 
A good time was had by one and all (as seen by this picture of the carol singing). Link to the full report.
Perhaps the most keenly contested sporting event of the autumn was held at Oaklands Park Golf Club on the Friday evening, 25th October. It was of course our very own CDWS Skittles Evening.
Rob Britton organised a thrilling evening – and Gwyndaf's account can be found here.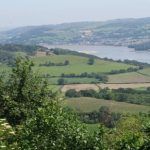 At the 2018 Christmas gathering, our hosts, Bill & Sue Jones, asked that as a gift, they would prefer a donation to the Woodland Trust for trees to be planted at Parc Mawr. Following the Society's Oswestry trip in June, Bill & Sue drove on to see how the trees were doing. Here is their report: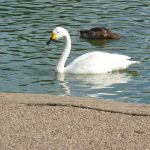 On 12th September,we visited WWT Slimbridge to see the wild fowl and have the opportunity of being among the first visitors to Peter Scott's newly opened house.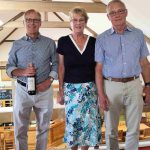 We held our annual Golf Day on 30th August, Rob Britton's report can be found here.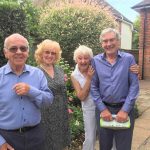 17th June saw 33 of us off to Oswestry for the week, to discover the Welsh Marches. Many thanks to our expert guide, Jonathan Pegler.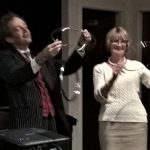 We had an excellent turnout for our 2019 AGM. Members were entertained not only by Ann Tennant single-handedly providing a lovely meal for 50, but also by Bertie Pearce, who combined a talk about the use of visual deception in art through the ages with magic tricks, assisted by members of the audience.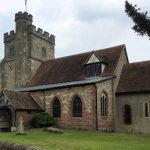 This year our Spring Walk included a viewing of the medieval church paintings in Little Missenden as well as our usual walk in the hills and pub lunch. Our thanks to Gwyndaf and Janet John for arranging the trip.
See the full report here.
We've also added some photographs of the members of the committee, so that you can see who everyone is.
---