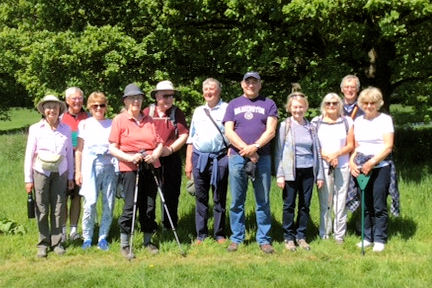 Tuesday May 15th – Our Spring Walk & Pub Lunch took place on a gloriously sunny day. How could it have been otherwise!
The members gathered outside the Swan in Ley Hill. This attractive old pub faces the open land of Ley Hill Common and was originally three cottages dating from the 16th Century.
Sam, the bubbly landlady, unlocked the pub and came out to meet us – so some much needed relief was had before we set off!
Thirteen members went off on the walk with another five joining us later for the lunch.
Passing the little village Memorial Hall the footpath led to Tyler's Hill. This woodland is full of large deep holes from which clay was excavated for the local brick and tile making  industry. We wound our way past and through these dips and on through open fields with distant views across the Chess valley, then followed a long, wide, but fortunately shady, path along a typical Chilterns "bottom".  Finally we strolled up through open parkland and woods to reach the far end of the Common.
Ley Hill Common is the home of a golf course, and here Ralph Broomby was delighted to re-make his acquaintance with a par three hole of particular difficulty with the green located in a valley well below the tees. After admiring this tricky golf hole we strolled back across the springy turf of the common to the pub.
During the walk we learnt how to distinguish the scented native bluebell from the oft-planted Spanish species, smelt and tasted the leaves of Garlic Mustard, and discovered the extraordinary reproductive strategy of the Cuckoo Pint (also known as Lords & Ladies).
Inside the Swan still has the wooden beams, inglenook fireplace and the old original stove. Fortunately padded cushioning has been fitted to the old beams though I still managed to bump my head on one beam. After a rest with drinks in the cool garden we went in for our meal. Tables had been thoughtfully arranged in a U shape for us. Very conveniently the landlady had taken main course orders previously and had set up a tab for the various couples and singles present. The meals were excellent and quite a few found the desserts irresistible. The Swan delivered good food and excellent service.
All in all it was a relaxed day out. We learned about bricks and how they are laid as well as some natural history. And we enjoyed the good weather in some lovely Chiltern countryside.
Gwyndaf John