Castles and Gardens, Mountains and Sea

Nineteen CDWS members assembled in Caernarfon on June 6 for the fourth expedition to Wales organised by Jonathan Pegler. We had warm, mostly sunny, weather and three full days of interesting activities which flowed on seamlessly from morning to evening, thanks to Jonathan's meticulous research and planning and to Dave, our coach driver, who whisked us conveniently between each one.
-ooOOoo-
We saw four castles, including three of Edward I's "big four". (We weren't close enough to Conwy).
Caernarfon Castle itself was the highlight for me, because of its size, its completeness and the CADW guide who was a medieval history specialist and gave us instructive insights into what life in and outside the Castle would have been like in the 14th century.
We looked down from the towers of Harlech Castle at modern settlements built on what would have been the sea when the castle was reliant on ships for its provisions.
We also saw Beaumaris Castle, perfect in its symmetry and elegant design but incomplete, as we were told several times, because also in those times, governments ran out of money and could not afford big infrastructure projects.
Then there was Criccieth – a Welsh castle, not an English one, although Edward expanded it, and from where we could look across Tremadog Bay and just make out Harlech in the late afternoon misty sunshine.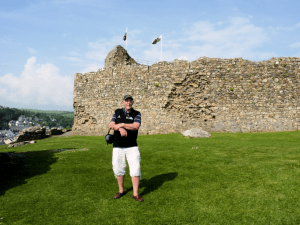 Gwyn Owen at Criccieth Castle
-ooOOoo-
For our gardens, we had Plas Newydd, given to the National Trust in 1976 by the 7th Marquis of Anglesey, although he continued to live there until his death in 2013, with its gardens sloping down to the Menai Strait. The first Marquis was one of Wellington's senior officers and he lost a leg to French shrapnel in the closing hours of the Battle of Waterloo.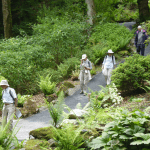 Also on Anglesey was the hidden garden of Plas Cadnant, a gem of a small early nineteenth century garden brought back to all its former charm, tumbling down wooded slopes to a stream in a rocky ravine.
When we visited Portmeirion, we enjoyed the eclectic mix of buildings and the gardens with picturesque views across Portmadog's estuary.
-ooOOoo-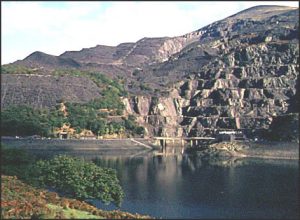 The tourist office calls our mountain the "Electric Mountain" and we didn't go up it but inside it to visit the Dinorwig pumped water storage power station. When the Dinorwig slate quarries closed in 1969, a project was conceived to use the site and the workforce to create a hydro-electric scheme in which water descending 500 metres through tunnels inside the mountain generates electricity during the hours of peak demand. The unique feature of Dinorwig is that all the equipment is capable of going into reverse and pumping the water back up again in the middle of the night using the surplus electricity of nuclear and coal fired power stations which have to run constantly 24 hours a day. Although it consumes four units of electricity for every three which it produces, it generates electricity when, for example, millions of people all switch on a kettle simultaneously at the end of a TV programme. When in standby mode it can react in 12 seconds to produce the electrical output of three nuclear power stations and switch off again just as quickly. We had an excellent tour guide here who helped us understand its important role in aligning electrical supply to demand over the whole of the National Grid.
-ooOOoo-
We enjoyed the beauty of the Menai Strait at sea level with a boat trip from Beaumaris Pier out to Puffin Island just off the eastern tip of Anglesey, where we saw plenty of cormorants and guillemots and a few puffins and seals.
We came back to view the fine nineteenth century iron work of Bangor Pier and looked up at Thomas Telford's beautiful 1826 suspension bridge which conveyed the A5 to Holyhead and cut several hours off the journey from London to Dublin as the traffic increased substantially after the Act of Union with Ireland in 1800.
We had already crossed and recrossed to Anglesey several times on the modern Britannia Bridge. Originally built by Robert Stephenson to take just the railway to Holyhead in 1850, its wrought iron box section was destroyed by a fire in 1970 which took hold of the tarred wood inside. It reopened after reconstruction as a road bridge on a deck above the railway lines.
However on the last evening of our fascinating stay in North Wales, our wonderful coach driver Dave brought us back over the Thomas Telford 1826 bridge. We had time to get great views from above of the strong tide flowing out through the Menai Strait, because there was only 5 cms clearance between the wing mirrors of the coach and the stone arches over the road deck, so we went through rather slowly!
Peter Chapman