The Complete History of Comedy (abridged)
On Tuesday, 24th March, 20 members of the Chiltern District Welsh Society met at the Wycombe Swan for our annual cultural trip to the theatre.
We all met in the bar at 7pm to collect tickets and chat, before taking our seats at 7:30.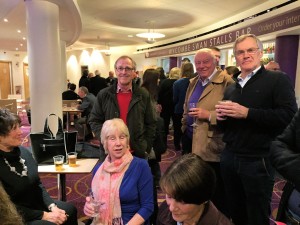 This year's event was to see the Reduced Shakespeare Company's latest work, The Complete History of Comedy (abridged).
The Complete Shakespeare Company is not quite as highbrow as our usual shows. Three American comics ran through the history of comedy from cavemen to the present day in a non-stop series of quick change sketches, gags and monologues which succeeded in breaking most taboos and taking as their subjects a mixture of scatological, sexual and xenophobic settings. They were very fair and tried to offend everyone equally, even the Welsh – very funny.
Ralph Broomby was press-ganged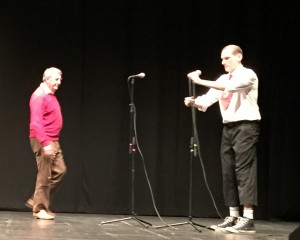 onto the stage (not very reluctantly) to take part in an improvised sketch and demonstrate his ability to provide sound effects to the action provided by the comics.
The show was very fast paced and finished at 9:30. At we made our way out, the cast were at the door to say farewell.