At home our Quiz Night at home is usually on a Monday – Mastermind, Only Connect followed by University Challenge, but at the end of January we venture out on a Friday evening to Coleshill to take part in the CDWS Quiz Evening.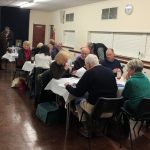 Chairs and tables were arranged early and we were supposed to divide ourselves up into six tables of six, then choose a name for our team. There was some confusion over this with teams varying in size from 5 to 8.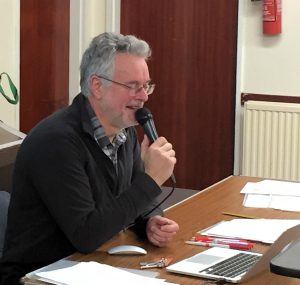 Jonathan had prepared 5 rounds of questions, but first we were given the two 'Table Rounds' to solve. The first was to name the subject of 20 or so autobiographies, and the second was to identify pictures of seasides – in the fog, in the snow, battered by gales and otherwise disguised.
The main rounds had topics varying from geography to nurses, and this year Jonathan must have had pity on us, as all the teams seemed to get more questions correct than wrong this year.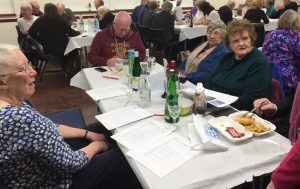 Halfway through we had a welcome break as the Fish and Chips arrived and were swiftly dispatched.
Our usual glamourous assistant was absent this year, but Peter Chapman stepped into the breach – collecting the papers in and checking scoring as well as participating in the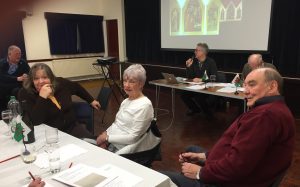 winning team, The Chiltern Hundreds, but it was a close fought fight and we finished after 10pm.
Thanks to Jonathan for devising and hosting the questions.