Monday:
We traveled by comfortable coach from the Chilterns to South Wales, en route Jonathan entertained us with interesting facts passing by Severn Tunnel Junction, Llanwern steelworks and other local landmarks. We arrived at Llanelli Wetland Centre where the temperature hit 31 degrees and we all enjoyed a lunch stop and walk around the Wildfowl & wetlands Trust (WWT). The flamingos and threatened wetland birds were a treat to see at such close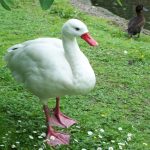 quarters including Nene goose and Laysan teal from Hawaii, and declining species swans and geese from Greenland, Bulgaria and Russia.
Fortunately we had a wonderfully air-conditioned coach for those of us who found the temperature rising to 35⁰C a tad difficult!
Tuesday:
Our Blue Badge guide Marion Davies took us on a fascinating walk around Tenby town.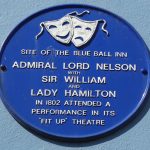 A blue plaque marked the house where 'close friends' Lord Nelson, Lady Hamilton and Sir Wm Hamilton visited, we were told that any impropriety had been denied by the party at the time!
A short trip by boat to Caldey Island during the afternoon was a highlight. Marion guided us around the beautiful Abbey and medieval buildings. The island has been inhabited since Celtic times, although now only 8 monks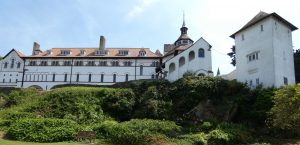 remain and they face difficulty in recruitment. We were so fortunate to be able to see and hear the monks singing and chanting (surprisingly in English rather than Latin). The Prior – Brother Gildas – a friend of Marion's, kindly spoke to us of the monastic life on Caldey, where they rise at 3.30am every day! As the Cistercian Order is a silent Order, at least 12 hours a day are spent without conversation whilst at prayer and work.
In the evening we all gathered for a group meal, kindly arranged by Jonathan, at The Moorings restaurant in Tenby which proved to be a great success.
Wednesday: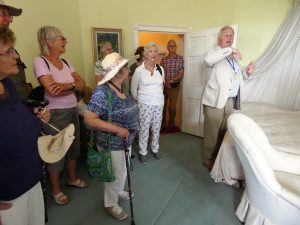 Marion took us to Picton Castle and its beautiful gardens, where we were privileged to have an exclusive guided tour from the Director himself. A most interesting castle from the 19th century with visits to the Great Hall, White and Gold Room, Library and Lady Philipps's bedroom, then to the Dining Room where the Queen and other members of the royal family were entertained in 2014.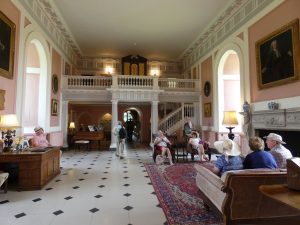 Some of us ventured to the Secret Owl Garden, where we saw an amazing range of owls from distant shores and also a beautiful blue kookaburra from the Antipodes.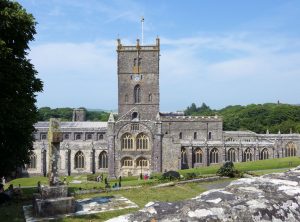 Our afternoon visit to St David's Cathedral (always a joy) was so informative, with Marion bringing everything to life, with her knowledge and enthusiasm. St David's has been a place of worship, prayer and pilgrimage since the 12th century. The medieval Shrine of St David which was restored and then dedicated on St David's Day 2012 contains 5 colourful icons including those of St Patrick and St Andrew.
A brief stop was made at Fishguard to view the Last Invasion Tapestry, depicting the French invasion of the UK at Fishguard and the Welsh coast. The belief is that the French were deceived into thinking they were facing a large British army of Redcoats, whereas the red and black movements they saw in the distance were actually local women dressed in traditional red shawls and large black hats!!
Thursday: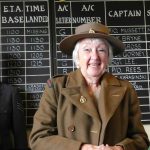 A wonderfully entertaining and informative visit to Carew Cheriton Control Tower. The talks given by the 'boys' with their camaraderie and humour, again brought to life the atmosphere of the RNAS station during WW1 and the later RAF station in WW2. The station was home to airships in WW1, then in 1939 Coastal Command squadrons were engaged on coastal patrol duties and bombing raids along the French coast. In 1942 the airfield also became a Technical Training Radio School until it was disbanded and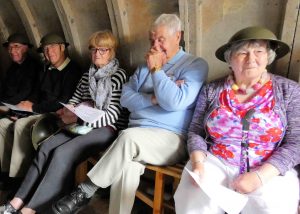 closed in 1945. Most memorably, Reg now aged 91, recounted his service in the RAF followed by singing whilst wearing 'tin' hats in the reconstructed bomb shelter.
On our return to Tenby we made a visit to the Stackpole Estate at Bosherston to view the massive and abundant water lily lakes.  An immense spectacle with the lakeside paths leading down to a magnificent beach and coastline.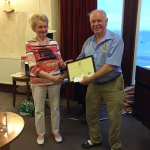 Some of the party took advantage of an invitation by the Tenby Male Choir to attend one of their rehearsals. They were very impressive, and we learned that they will be travelling to Oxford to perform with the Oxford Welsh Male Voice Choir next October. Ann Evans presented the choir with a donation and certificate.
Friday: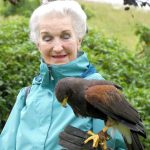 With our 5 days almost at an end, a last visit was made to the National Botanic Gardens of Wales at Llanarthne. The gardens setting is perfect; however, the temperature had dropped and light rain was the order of the day!! We were treated to a Falconry display and most of us were able to wear a gauntlet and have a falcon or hawk land on our arm to snatch its food.
The gardens' Great Glasshouse, a dome shaped building at the centre designed by Lord Norman Foster, is the largest (at 3,500 sq. metres) single-span glasshouse in the world. It houses plants from 6 areas of the world. Nearby the hot house contains spectacular exotic plants and beautiful butterflies from the tropics. The gardens and plants around the grounds were in full bloom and looked amazing.
We arrived back in Bucks around 5pm after a wonderfully varied and informative trip thanks to Jonathan. We look forward to next year!
Report by Pamela & Lloyd Jones
Photographs by Barrie Reece
Lots more pictures here