Windsor Races Monday 6th August


Everyone got the message to arrive for the coach 15 minutes early, and almost thirty members of CDWS set off for Windsor. On the journey, our treasurer, Graham Beavan, surprised us by distributing a refund of £5 to each of us – the additional numbers reducing the individual cost per person and supplying funds for the first race.
We arrived at the Royal Windsor Racecourse in time for the first race at 5:30, with plenty of time to buy programmes and acquaint ourselves with the layout of the course.
The course itself lies in a bend of the River Thames bounded by water on two sides, but from the main paddock area, that is not at all obvious.
For many of us, this was the first time that we had attended a race meeting. Rob Britton had arranged that our tickets covered entry to all areas, so we wandered through the paddock lawn and got our bearings, discovering the sites of the parade ring, the grandstands, finishing post, bookies booths and bars.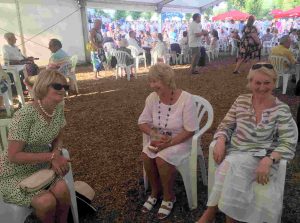 It was a glorious summer's evening., and many of our party took shelter from the sun on chairs beneath a large marquee on the paddock lawn.
It was difficult to see the whole of the circuit, even from the stands, as it stretched around a corner, but there were several big screens showing all the action.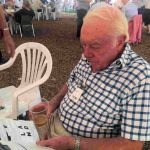 We studied the racecards, which gave details of all the horses, riders, past form, owners, trainers, heritage, and weights. We checked the odds given by the bookies, then chose our horse based on its name, looks or the rider's colours.
It was possible to get very close to the horses as they walked round the parade ring, seeing them gallop past at the winning post, and then seeing the winners steaming and sweating and being cooled down and attended to in the winners enclosure.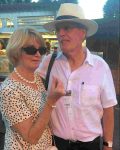 Many of our party were able to pick a winner in one of the seven races that were run that evening, however some (myself included) had to be content with keeping the bookies in business.
Stalls sold food and drinks, most of it reasonably priced, but even the winners were surprised at the cost of a glass of Pimms!
The last race finished at around 8:45, leaving enough time for either a last ice-cream or a slow saunter back to the coach, as a Queen tribute band began to play on a stage in one corner of the Paddock Lawn.
Rob made sure that there were no stragglers an that everyone was on board and we set off back, arriving home before 10pm.
Thanks to Rob Britton for arranging such good weather, and organising the trip.