Chiltern District Welsh Society 2015 Summer Lunch at our chairman's home in Chesham Bois.
The beginning and end of the day looked like this respectively: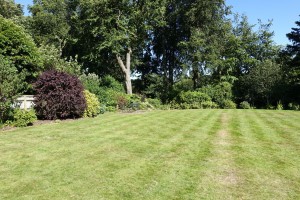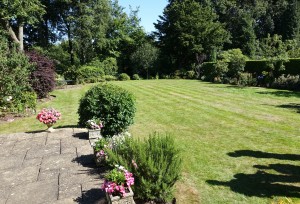 And in between it was transformed for the Cymru ar Wasgar yn y Chilterns.
And the sun shone on Kay and Peter's lovely home and garden in Chesham Bois which is where we were this year. Of the 47 people who turned up, approximately 20 had been involved in preparing for it in one form or another: from the erection team who magicked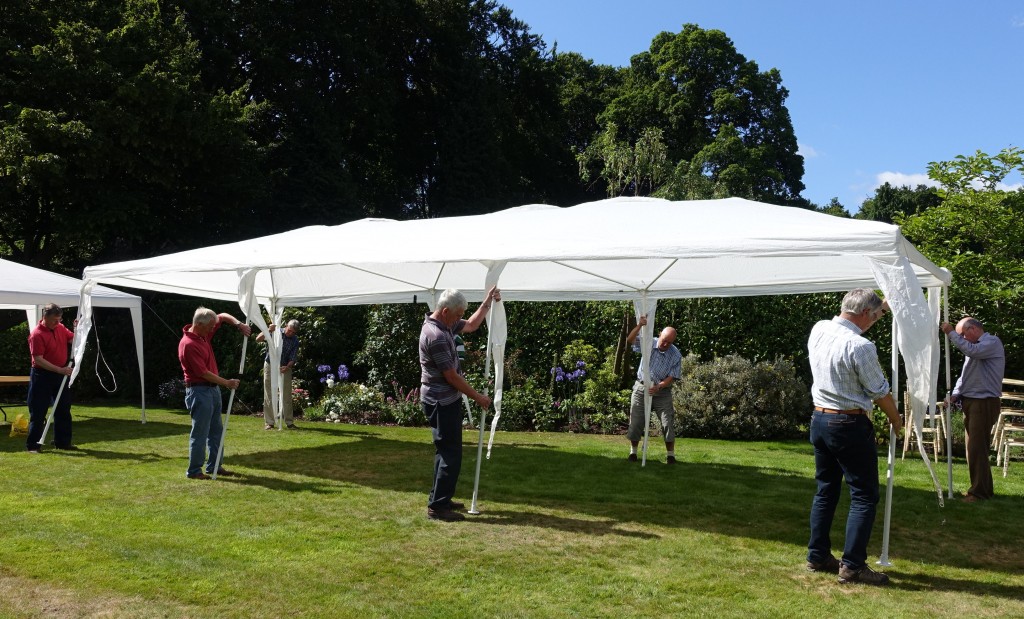 the gazebos, table and chairs, to the ladies led by our President Ann Evans who prepared the lovely table decorations, the committee who scheduled the event, printed notices and published it on the web site, and Maldwyn and Gwyndaf who collected and delivered the equipment a couple of days before, and returned it a couple of days afterwards. Thank you all.
We were at Kay and Peter Day's home in Chesham Bois. Some of us felt at home because we thought the "boys" from the valleys had already been here, whereas in reality the Bois comes from the de Bosco family (the French version of which was 'de Bois') as far back as 1213 when a William du Bois was holding the local manor.
We arrived at 9:30 to put up the equipment. There has to be something in management training about 5 leaders telling 3 subordinates what to do. This saw us getting everything installed in record time.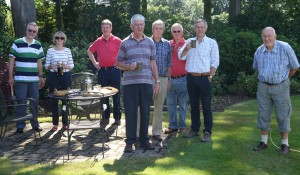 This allowed everyone to return home, dress up and appear as guests! And fine we all looked too.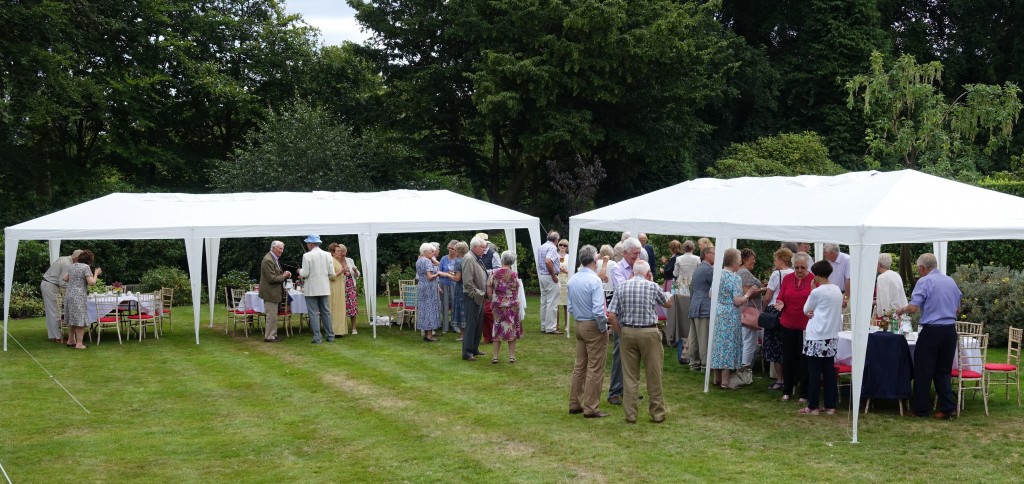 Someone wanted to know where to put up the Welsh bunting, whereas of course bunting was an English Royal Naval term and therefore an antithesis when used with Welsh.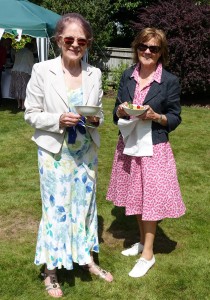 Our Chairman Kay Day welcomed everyone in Welsh and English and, ably accompanied by chorister Jonathan, led us in our national anthem. Gwyn Owen, Colin Thomas, Jean Owen, Ann Thomas, Ann Evans and John Breese's voices were prominent, so much so that they acted like a homing beacon for Ann and Barrie Reece who were still lost on Clifton Road!!
The garden looked lovely – Colin Thomas said you wouldn't get a garden like that in Gerrards Cross because they would have sold half of it for development.
Two eminent members of the society took opposite views as to who should take credit for the garden – one said it was due to Kay's hard work, whilst the other said it was Peter's. I think it was a joint effort. This year's 30 question quiz was to find, from 30 places in the garden, where the fishpond had been – and that's how the Welsh became good at the loose maul!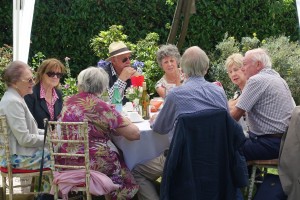 Conversation flowed as we caught up with hwn ar llall. Each table developed its own personality: Margaret and John Edwards' table was consumed in lively, humorous and energetic conversation with science and technology as a probable theme. Our table talked holidays, golf, theatre and opera and, the upcoming Brecon trip in September.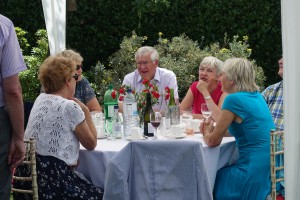 I heard conversations about food and restaurants from another table. And laughter came from all tables.
Eager to catch up with others, we meandered at leisure amongst the other tables.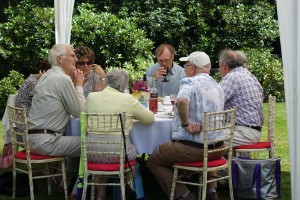 Our caterers this year were To Dine for Catering. They provided us with Salmon en croute, Chicken breast wrapped in Parma ham, new potatoes, roasted Mediterranean vegetables, asparagus/mixed leaf salad,   Lemon Tart, fresh fruit salad, cream,  Tea/coffee mints. Pryd perffaith!
And the sun shone all day.
But a gust of wind saw me frighteningly and single handedly, for a few brief fleeting seconds when everything seemed to go into slow motion and appear longer as they do in accidents alone, on the wrong side of the gazebo trying to keep it from flying off!
That was until others leapt at the trailing legs. Had we not had such brawn as Gwyn Owen, Ralph Broomby, Jonathan Pegler and Peter Day leap into action, we could have seen the gazebo carving a path across tables and garden, and then taking off with me still hanging on to a leg as if in a take for Mary Poppins. In the event we had 6 men offering various pieces of advice on how to get one of the struts back into place.
Di Thomas was serenaded to a happy birthday by the mixed voice choir of the Chiltern District Welsh Society. Barrie Reece demonstrated how to sing the "soh lah te doh" to a climax on the final line of the verse!
And whilst Gwyndaf John had come to help us in the morning, he and Janet couldn't be with us. They'd just become grandparents the Thursday before, and hadn't yet seen their grandson because they'd been on holiday in Ireland until the Saturday evening. Likewise David and Irene Powell couldn't be with us because their parents were unwell and they also had a granddaughter on Thursday. We missed them all. Congratulations to both families on their new arrivals!
Later in the afternoon Jonathan and Kay distributed the 2015 Summer Newsletter which had been prepared by David Powell. What a fine job David does of it, including the stapling, layout and design. Thank you David – your fine work on the website, photos, write ups and news letters are really appreciated by the society. It reminds us that we've been going for 15 years, and at nearly 130 members makes us one of the largest Welsh Societies in Britain – could be even 2nd according to one scholarly research.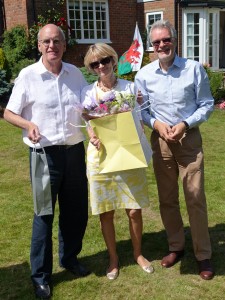 And then Jonathan, saving our chairman's embarrassment of giving the host (herself) a thank you gift! presented Kay and Peter with flowers and a bottle of wine respectively to thank them for opening up their lovely home and garden to us.
What I learnt was how many of us spoke Welsh, and yet we don't so much at our society's events. For example, I didn't know that Maldwyn spoke such excellent Welsh. Kay, who comes from DwyGyfylchi near Penmaenmawr, and I spoke Welsh for the first time together. Cadwch yr iaith yn fyw!
Ceiriog – one of Wales's greatest poets in the mid 19th century – wrote of the Welsh's shyness when living in (Manchester) the land of the English (or saeson from the word Saxon). Our summer lunch showed another side, a thriving confident true community and society, working together and enjoying each other's company – what a difference from the "Been there, done that, got the T-shirt" world of today.
And with a 1,2,3, down the gazebos came, and everything was packed for next year.
What a heart-warming, thoroughly enjoyable day! Courtesy of our hosts and volunteers.
Ac ymlaen!
Bill Jones.