Everyone woke up on Sunday 10th December to find a thick layer of snow had fallen overnight and it was still snowing. It was unexpected, the roads had not been salted and the snow showed no sign of disappearing.
Luckily, we only live a few minutes away from Colin and Di Thomas's house in Gerrards Cross, so we were able to make it, but many were not so lucky. We had expected a turnout of about 60, but only 20 people managed the journey, mostly from Gerrards Cross and Beaconsfield, including new members Kate and Colin Picton.
We were uncertain how many people would be able to attend, and as the time went by emails and phones started to arrive with tales of impassable roads and AA weather warnings.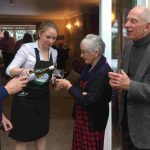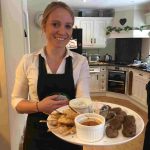 Thankfully, the caterers, 'To Dine For' made it through the snow and were all prepared.  The food was excellent and very plentiful.  We had not only the canapés we had ordered but about half of the canapés for Stephanie's following event (for 100 people) which had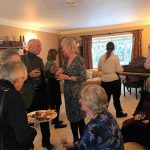 been cancelled. She said that the canapés for the later event wouldn't keep, and insisted they had to be eaten.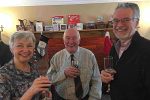 As numbers were reduced, it did mean that we had the opportunity to talk to everyone and it was a very friendly atmosphere.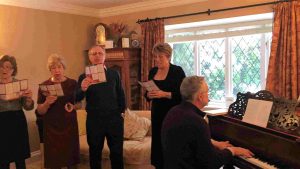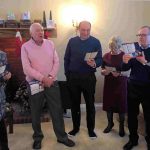 Jonathan Pegler had brought a good supply of carol sheets, distributed them around the room and played the piano while everybody enthusiastically joined in the singing.

We all left in good time before dark, trudging through the snow, many with doggy-bags of surplus food, and there was quite a bit left for Colin and Di's supper – they earned it!
It was a different sort of event, but very sociable, and a nice-sized gathering for the new members to meet people, but it was a shame that so many were not able to enjoy the afternoon.
Many thanks to Colin and Di for their hospitality.
More photographs (and videos) here.
David Powell & Jonathan Pegler.