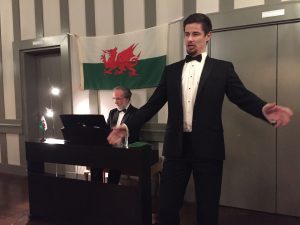 After the snow reduced the number of attendees for our Christmas get-together, we had to postpone our St David's Day Dinner as snow again threatened to prevent people attending, so we bravely chose Friday 13th April instead.
The Committee debated what to call our delayed event: CDWS Spring Dinner 2018, the Spring Dinner, the Postponed St David's Day Dinner?  In the end we stayed with the St David's Dinner.
While some of our members couldn't make the new date, fortunately both our singer, Meilir Jones and Iain Ledingham, acting as accompanist, were able to attend. Others who couldn't make the 1st March could attend for the new date. In the end we had a headcount of 70 – not bad.
Arriving at 6:30, it was a pleasure to see Harewood Downs in the daylight, as it was still light and we were able to admire the fine views over the Misbourne Valley.
The staff were very attentive and we were greeted with a glass of Prosecco or a non-alcoholic alternative while we assembled and met old friends and welcomed new members.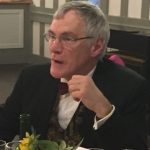 When we found our places at the tables, Gwyndaf John said grace in Welsh, but before he did so he explained the origin of the poem and the rules of the poetic style in which it was written (somewhat similar to a Japanese Haiku), giving it its unique style.
Our menu choices were cleverly printed out for each table, so that that would be no arguments about who had selected which dish – thanks to Graham Beavan.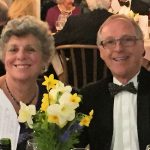 The food was very good with main course choices of lamb shank, gammon or hake. Everyone was pleased with the quality and service.
After dinner, Kay introduced our entertainment for the evening, Meilir Jones (Baritone), accompanied by Iain Ledingham.
Meilir was originally from Llangefni on the Isle of Anglesey and is one of the first recipients of an award from the Bryn Terfel Foundation. He is currently engaged in postgraduate studies at the Royal Academy of Music in London.
Iain Ledingham is a Professor at The Royal Academy and also founded the Amersham Festival of music.
Meilir sang a variety of baritone works ranging from opera, to welsh folksongs and even a Shakespearean sonnet. These were all enthusiastically received by the members, who all called for an encore.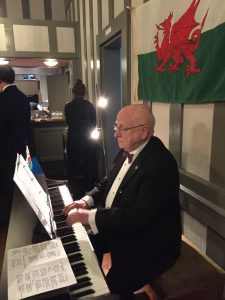 As the evening came to a close, Barrie Reece stepped up to the piano and played a series of welsh favourites with many of the society joining in.
At the end of the evening, we all thought that it was another successful St David's Day – even if it had been delayed by six weeks!