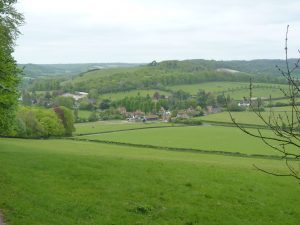 The Hambleden valley was the perfect location for the Society's Spring walk on May 9th. It shows England at its very best with the idyllic villages of Fingest, Skirmett and Turville, beautiful rolling countryside and quaint pubs.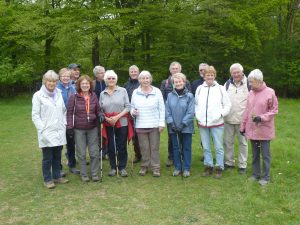 Sixteen members met at The Frog at Skirmett at 10 o'clock on a dry but quite chilly morning. As a large herd of deer grazed in the distance we were glad to get going. The walk took us across the valley, up a gentle slope through Adam's Wood, passing a field of rare breed sheep and lambs. Even those of us with an agricultural background were unsure of the exact breed!
We were in luck as there was still a fine display of bluebells scattered amongst the trees. When we emerged from the wood we were greeted by marvelous views taking in the villages of Fingest and Turville below us. Turville is often used for filming episodes of Midsomer Murders and The Vicar of Dibley is set in the local church.
The valley and surrounding hills are a haven for wildlife and flora and one of the highlights of our walk was Janet enthralling us with her knowledge of the local wild flowers. As well as naming the myriad of tiny hedgerow flowers, which many of us had not even noticed, she educated us on the subtle differences between different species. Who knew there were so many species of buttercup! We all gave her our full attention suspecting there might be a quiz when we returned to the pub!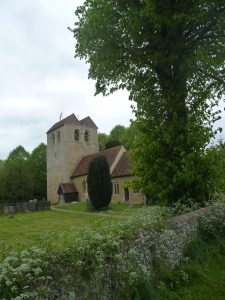 Even though we were given the option of following a shorter route we were all made of sterner stuff and completed the full distance of Gwyndaf's 3-4 mile walk, returning to Skirmett via Fingest and its ancient church. This is a Grade 1 listed building with a tower dating from the early 12th century. Surrounding the church is a cluster of medieval and Georgian houses and cottages.
We were all looking forward to our lunch at The Frog and we were not disappointed. The food was excellent and it was difficult to resist those tempting desserts!
Our thanks to Gwyndaf and Janet for organising such an enjoyable and interesting Spring walk.
Gwyneth Herrington