About 55 members and their guests gathered at Gerrards Cross Golf Club on Friday 1st March to celebrate Saint David's Day.
The evening started with the usual welcoming drink at 6:30. On taking our seats at the tables our Chairman Gwyndaf John greeted everyone and our Life President, Ann Evans, said grace. This was followed by the meal of prawns, lamb and bread and butter pudding, well prepared and efficiently served by the staff, during which conversations flowed freely.
The meal really was incidental; everyone awaited the entertainment, harpist Claire Jones.
A slip of a girl off stage away from her harp, turned into a colossus on stage with it.
Her programme included traditional Welsh tunes and modern compositions, each accompanied by comments on the piece, some historical, others personal, some of her experience as the official harpist to the Prince of Wales. She told us of her career, playing for the Prince, and, on one occasion, a private session for the Queen herself. She described her tours around the world, including the time when she played the Men of Harlech on the arrival of the Welsh Rugby team at one official function. She showed us many photographs to illustrate these occasions.
She played like an angel, the audience was enthralled. Unfortunately it had to end, but not before a question and answer session on the harp and its intricacies.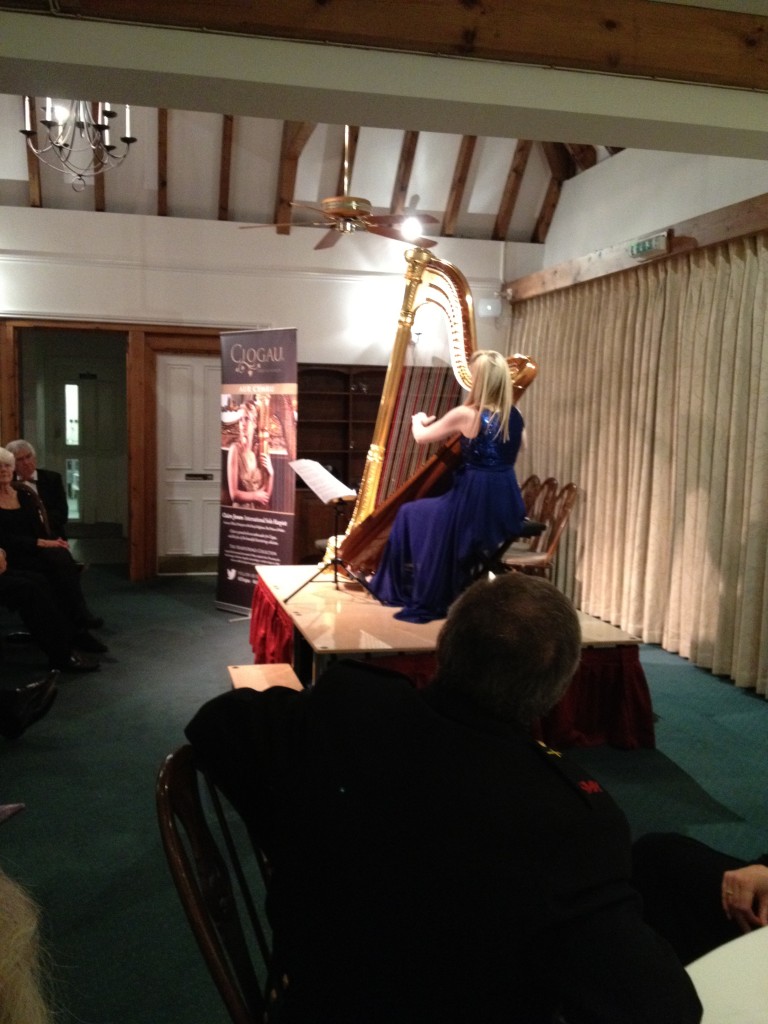 Many of the audience were so impressed that they bought some of Claire's CDs.
No Saint David's Day evening is complete without the traditional singing around the piano, John Breese was in good form on the ivories, and helped bring a very memorable evening to a rousing end.
St Davids Delilah
An evening all those present will never forget.
You can find out more about Claire on her website
Future Events
Our next event will be the AGM at Coleshill village hall on Friday 17th May.
Ann Thomas is booking tickets for a visit to the Prince of Wales' garden at Highgrove on Wednesday 12th June
Please let Gwyndaf know if you'd be interested in a trip to Cardiff, organised by Jonathan Pegler on September 9th to 12th
Highlights will be visits to Tintern, Caerphilly Castle, Brecon Moutain Railway, Duffryn House and Raglan Castle.
The Summer Lunch will be on Sunday 14th July